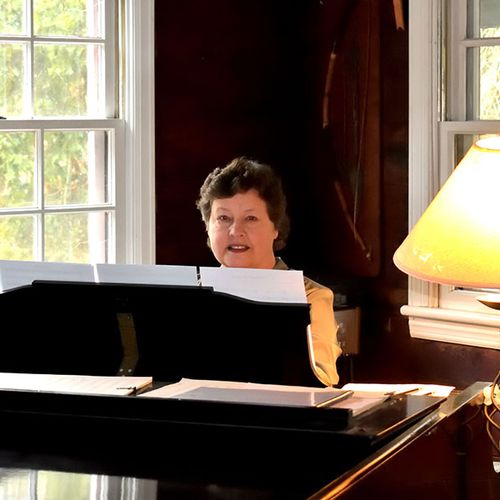 Tribute to Hilary Tann
A Concert Series celebrating the legacy of local composer Hilary Tann
January 24, free preview SUNY-Schenectady, Carl Taylor Auditorium, 12:00-12:45 PM
January 27, Old Saratoga Reformed Church, Schuylerville, 3 PM $15 for adults, $5 for students
January 28, First Reformed Church of Scotia, 3 PM $40 adults, $10 students

Program: Embertides for solo organ, Seven Poems of Stillness for Cello and Narrator, Llef (flute and cello), Melangell Variations for baritone, flute and piano, In the Theater of the Air for flute, cello and piano.
Featuring Norman Thibodeau, flute; Andre Laurent O'Neil, cello and guest artists Alfred Fedak, organ; Max Caplan, piano and Joseph Han, baritone.
ABOUT THE COMPOSER
Welsh-born composer, Hilary Tann (1947-2023), lived in the foothills of the Adirondack Mountains in Upstate New York where she was the John Howard Payne Professor of Music Emerita at Union College, Schenectady. Her compositions have been widely performed and recorded by ensembles such as the European Women's Orchestra, Tenebrae, Lontano, Marsyas Trio, Thai Philharmonic, Royal Liverpool Philharmonic, and BBC National Orchestra of Wales. Composer-residencies included the 2011 Eastman School of Music Women in Music Festival, 2013 Women Composers Festival of Hartford, and 2015 Welsh Music Center. Praised for its lyricism ("beautiful, lyrical work" – Classical Music Web) and formal balance ("In the formal balance of this music, there is great beauty …" – Welsh Music), her music was influenced by a strong identification with the natural world. She was a published haiku poet and a deep interest in the traditional music of Japan led to private study of the shakuhachi and guest visits to Japan, Korea, and China. A recent review of her string quartet, And The Snow Did Lie, states "Tann's music is shimmering and weightless, effective and moving … it reinforces the grounded spiritual ecstasy that is Tann's distinctive musical outlook" (J. Dalton, Albany Times Union, 5/24/20). Website: hilarytann.com.
This concert series is underwritten in part by funding from the New York State Council on the Arts.
Wine & Music Triptych
Part 3 of 3: Spanish Wines
Friday, February 23 at 6:30 PM
Dance Fire Studio, 36 Phila St, Saratoga Springs, NY 12866
 
Indulge your senses with an elegant Friday evening of Spanish-themed food, wine and music! Musicians of Ma'alwyck offers its third installment of the "Wine & Music Triptych," pairing wine, appetizers, and music devoted to a single country. Our "oeno-guide" will be Joshua Turo, head sommelier and managing partner at Yono's/dp An American Brasserie.
 
This event will focus on wines and tapas from Spain, featuring the music of Albeniz, Tarrega, de Falla and more.
 
Tickets are $125 - must be 21+ to purchase. Attendance is limited to 40, RSVP by February 19    
This concert series is underwritten in part by funding from the New York State Council on the Arts.
Music in the Schuyler Mansion